LiteCloud Fiber Internet – Baltimore's Premier Fiber Internet Service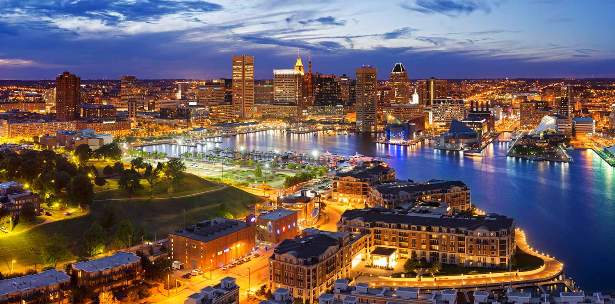 LiteCloud Fiber Internet service is now available to your business in Baltimore City!  With over 60 miles of underground fiber we offer the most geographically diverse fiber network in the Downtown Baltimore area.  We connect to every major Data Center and Carrier Hotel in the Downtown area and our services are available at on-net pricing in over 40 buildings in the Downtown area.
The LiteCloud Network is a unique Terabit-Scale fiber optic backbone that is designed in a ring architecture for maximum protection from disaster such as a fiber cut.  Customers benefit from the resiliency of having a redundant connection to our East and West Baltimore Internet Peering points where we peer with ISPs such as CenturyLink, Verizon, Comcast, Cogent, and Zayo at speeds up to 10Gbps.  Our best-in-class Ciena-based metro ethernet network allows customers to connect to our backbone at speeds up to 100Gbps while we offer flexible Internet connectivity options ranging from 100Mbps to 10Gbps.  ALL-FIBER design provides customers with symmetrical upload and download speeds providing immense benefits over a Business-Class Coax cable connection that limits upload speeds.  These limited upload capabilities impact performance of services such as Cloud Computing, Office 365, Software as a Service, and VoIP.
Why LiteCloud Fiber Internet:
Locally Owned & Operated
Terabit Scale Fiber Optic Backbone
100% Uptime Guarantee
Fully Redundant Connectivity to East & West Internet PoPs
Multiple Upstream Internet Peers
100Mbps – 100Gbps Service Offerings
Access to Local Data Centers
Access to Public Cloud Services such as AWS, Azure, and Google Cloud
BGP Routing & Free Public IP's
No Upfront Construction Costs
No Hardware Costs
No Hidden Taxes or Fees
Competitively Priced Service
http://www.litecloudhosting.com/services/baltimore-gigabit-fiber-internet/
LiteCloud continues to offer our complete suite of Managed IT Services to include Hosted VoIP, Private VMware Cloud Hosting, Backup & Disaster Recovery, Managed Cyber Security Solutions, and Managed Network Services!
Keep and eye out from our Baltimore Residential Internet Service coming soon!!!