LiteCloud Residential Fiber Optic Internet 
Fiber Internet – Better Performance, Better Price, Better Service!
Get faster, more reliable high-speed Internet with LiteCloud Residential Fiber Optic Internet. Our symmetrical (equal upload and download speed) fiber-optic bandwidth connection will give you better, more consistent Internet performance for all your wired and Wi-Fi devices. No other provider can give you this!
Why LiteCloud Fiber instead vs. "The Other Guy"
Fiber Internet – State-of-the-art fiber optics for best in class data speeds up to 2000 MBPS.
No Contracts – Simple, straight forward pricing with no gimmicks, contract, or hidden fees. Ever.
Dependable Fiber Service – Uninterrupted connections and dedicated bandwidth
Simple to Use – Easy setup, no maintenance, and available WiFi coverage for your whole family.
Future-proof – Your home is getting smarter and more connected every day. Our network will grow with you.
Faster Downloads – And uploads, too! Work, learn surf, chat, call, conference, and game easier than ever.
Unmatched Service – Support available when you need it and next day hardware replacement.
Time to Get Moving – Faster More Reliable Internet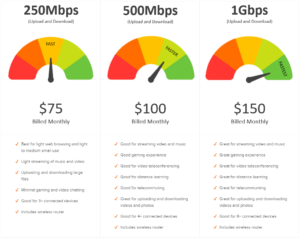 Residential Internet – Terms of Service
Residential Internet – Acceptable Use Policy
Contact Us Today